Many candidates seem to have a hard time answering this question and that is usually because they either have no idea of where they want to be in 5 years or they think their answer might not be what the interviewer wants to hear. Don't worry, few people know where they would really like to be in 5 years and even fewer of them actually end up being exactly there. There are so many variables in play that nobody expects you to see the future. That being said, showing you have a direction helps the interviewer understand you better. He/she will not only see if you can fit in this role but if the company can give you what you are looking for. Here are a few ways you can approach the discussion.
What is the interviewer looking for?
1. Understand if you are looking for a job or a career
One is not necessarily better than the other. It really depends on what the company needs at this point in time (which might even change in the future). For example, they might be thrilled to hear about how you would like to have your own team in 5 years when you are joining a startup in an early stage, but if they are looking to backfill a position within a big team they might not be too excited about it.
2. Get the pulse of your level of excitement for this position
The interviewer wants to make sure they hire someone who will minimize the chances of being gone in 6 months or a year, given the cost of hiring a new person and having to train and integrate him in the team. Moreover, employees who are more invested in the position and the company perform better and are therefore better candidates to hire.
3. Understand how ambitious you are
Depending on the position, the size of the company, the phase it is in, the composition of the team and several other parameters, your level of ambition is going to fit that specific environment or not.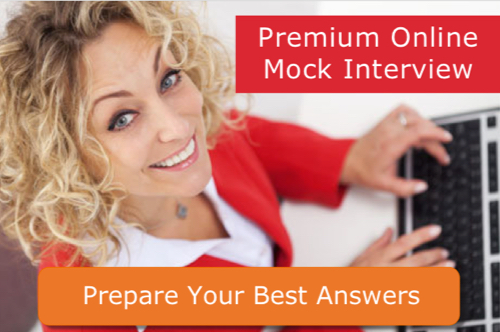 How can you structure your answer?
1. Describe what are the things that you value when choosing a position/company
The key here is to look for clues in the job description and use the right tone in the interview to emphasize the right side of your career goals.
Do they use words like "competitive", "ambitious", "opportunity to grow"? If so it is likely that they will appreciate answers that align with it.
If you feel they would not appreciate it, you can always say that you like the company products/mission/vision (pick something that is true for you, you will not sound genuine otherwise) and you are interested about learning more about it and improve your skills while you are there.
2. Explain WHY you value what you mentioned in point one
Make sure that you really believe in what you are saying. Picking a random thing and trying to build on it is not going to work. After all, if you are applying to that position there has to be at least a couple of things that you value about the company which are not related to receiving a paycheck. There are many angles you can see this from. Just pick the one that you care the most about. Is it that you like to work with smart/kind/motivated people? Is it that you really want to make a difference, be challenged, and learn or improve new skills? Are you inspired by the mission/vision of the company and you love their products? Or simply after a while in your previous position you are in need for a change and you think the values and culture of this company are a good fit with yours? The bottom line is make sure you do say WHY you think this position is the right one for you as a next step in your career.
3. Explain how you see yourself being happy in that company because of the fit with what you are looking for.
Match what you described in point 2 with a specific thing you like of this company or position. Here lies the strength of your answer. If you are very clear on what you want in 3 to 5 years and the interviewer (or the job description) explains that the evolution of this position is what you are looking for then state it clearly. If you are not sure about it, you can keep it more generic.
4. Whatever you say you can close with a statement that says that in any case you are flexible and willing to develop your skills in the direction that can create more value for the company because it will be beneficial for them and for your career.
Example of a good answer:
Job description looking for ambitious candidates
"Given the speed at which my career has been moving during the last few years it is hard to say where I will be in 5 years, but I can tell you where I would like to be in about 3. I am personally motivated by challenges and by working with smart people and my understanding is that in this position I will have a chance to do both and apply my leadership skills. If I start working in this position I would be excited to focus my first 3 to 6 months on understanding the product's lifecycle and work with my manager to understand if anything can be improved. This will give me a chance to also engage closely with each component of the team and both learn from them as well as bring my experience to propose alternative solutions to improve efficiency. During the next year and a half or so, I would focus on how to implement the improvements that are actionable and measure their results. If everything goes as planned, during the next year or so I would start planning with my management how I could better extend those improvements to other departments expanding my responsibilities possibly in a Sr. manager role. Of course, this is my plan in the best-case scenario, but as you never know how these changes play out I would be flexible to leverage my skills where they can better serve the interest of the team."
Job description not emphasizing career development and growth
"Well, that really depends of where this company will be in 4. I value greatly building good relationships with my co-workers and feel like I am contributing to the team and company success. I like the products of this company and I am thrilled at the idea of being a part of it. Five years from now I would have much more experience in your products, services and internal processes so there might be new opportunities for me to contribute and learn more in other departments or working on new products, as management sees fit."
Article Continues Below
---
Prepare the perfect answer
Ready to check how the interviewer will like your answer? Send it to our experts to learn what you are doing well, if there are any red flags and how to fix them.
---
How to avoid common mistakes
This question is not necessarily a deal-breaker most of the time unless you say something really odd, because the interviewer knows that many things can change within 5 years and so the vision you have now can be completely different 1 year in the future. Nevertheless, you should make sure you avoid the following mistakes.
What is the interviewer NOT looking for
1. Getting your sudden first thoughts on the subject
It will be very apparent to the interviewer if you have never thought about it, for instance if you start answering something along the lines of "I don't know, that's a good question" followed by a silence or "Well, you know, so many things can happen in 5 years". The good news is that you will never look bad answering this way since you are reading this now!
2. Hearing about your dreams unrelated to the position
We all have dreams and expectations about life in general, but this is not the place to discuss them necessarily. If this is just a stepping stone for you to land a different job or position you do not need to lie. You can describe high level what interests you of THIS position and how YEARS down the line you might want to leverage it to move into what you like the most, hoping there is such opportunity in the company. The point here is that if you are applying for a job in biotech because you hate your current workplace and you need to pay the bills but you really want to be a lawyer, this is not the right place to mention it.
3. Hearing about your personal life plans (e.g. having kids, moving,…)
This will not only be irrelevant but might come across as unprofessional. The interviewer is evaluating your career goals, not your personal life goals.
Avoid the following topics.
You might think I am stating the obvious but you would be surprised of what interviewers hear during interviews.
"It depends on my spouse/family"
Discussing potential career changes
Show the interviewer you haven't thought about it
Example of a bad answer:
"I don't know, my career changed at such a fast pace that it would be difficult to say.
If I had to guess I would think that I would either be in charge of the department I am applying to right now, or I would probably consider a career change. I like to be very dynamic and I get interested in many things.
Moreover it will depend a lot of where my personal life would be at that point, we are planning to have kids and I am not sure this would be the right place to rise them. In any case this is all speculation, many things can happen but for now I am interested in this position and be of help here."
Article Continues Below
---
Make your answer stand out
Ready to check how the interviewer will like your answer? Send it to our experts to learn what you are doing well, if there are any red flags and how to fix them.
---
What can you do next?
Now that you know how to craft a great answer you might be tempted to assume that you will be able to do it in real time on your interview. You might, but you will certainly see how you can improve how it sounds every time you rehearse it. Not only that but every time you will feel more confident too.
The last step to make sure you really are ready is to get feedback from someone who has experience in evaluating candidates. You can get feedback from family and friends, which is better than nothing. But is just an experienced recruiter or career coach that can tell you how much your answer is compelling from an interviewer perspective or how to tweak it for it to sound special compared to all the other dozens that they hear everyday from other candidates.
At FasterSkills you can find top recruiters and experienced professionals with 10+ years of experience in companies from startups to Fortune 100 firms. They have been on both sides of the interview table so they not only know how it feels but also they can help you get to the next level, stand out and thus land your dream job.
Given the demand for Top Coaches FasterSkills created a new service called Limitless Coaching that allows you to get access to expensive Top Coaches that only wealthy executives could afford, getting the best advice at affordable price (100% money back guarantee).
However you decide to do it. Practice. Practice. Practice. If you don't know where to start you can always ask for a free consultation
"In theory, there is no difference between theory and practice. In practice there is." – Yogi Berra